We've decided to put together a few tips on how to maintain a corporate office in between Superior Cleanings. A healthy and professional-looking space is great for employees well-being and productivity as well as for clients who can see you care about them as well. We will drop these each Tuesday for 10 weeks. With each new tip we'll add more commentary here and additional links for your learning pleasure.
#1 Wash Your Hands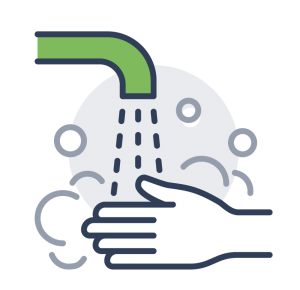 Studies show washing for 20 seconds or more with sudsy soap and water destroys common germs and even the Coronavirus.  See What Dr David Goldberg has to say in this article.  He's an internist and infectious disease specialist at New York-Presbyterian Medical Group Westchester and an assistant professor of medicine at Columbia University Vagelos College of Physicians and Surgeons.  Ya, super-smart dude!  Check out this video to see how simple soap and water DESTROYS the Coronavirus in 20 seconds! 
Why is soap your best weapon against coronavirus? from NYP Public Affairs on Vimeo.
Sanitizing highly touched equipment at least once a day.
Sanitizing highly touched equipment at least once a day. Like pens, counters, doorknobs, light switches and stair railings.  This is where all the germs and viruses that are not already airborne hang out and wait for their ticket to your body; namely your fingers and hands!
When cleaning your personal space in your workplace, use products that clean and disinfect all at once, such as store-bought disinfectant solutions or wipes, when available.
The Government of Canada has published a list of hard-surface disinfectants that are likely to be effective for use against (COVID-19). This list is updated regularly.
Keep furniture sanitized & clean.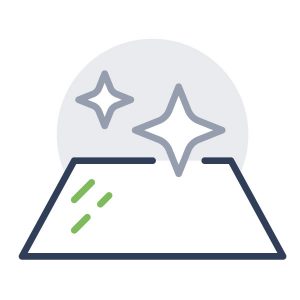 At the end of the day, wipe down chairbacks, armrests, tabletops, etc.
Fabric furnishings like chair seats, couches or others can accumulate germs and other viruses and studies show COVID can live on these surfaces.
We recommend spot cleaning, vacuuming, and then use a disinfectant spray over the surface.  This is best at the end of the day to allow that surface to dry.
#4 Keep Your Desk Tidy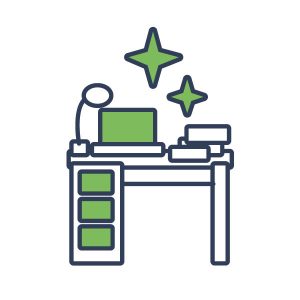 The more clutter the more surface for dust and germs to collect. A Tidy desk also makes your office look more professional.
How many germs are on a desk?
We work at our desks, eat at our desks and have colleagues visit us at our desks, which may explain why the average desk boasts 800 bacteria per square inch — nearly 14 times more than the office toilet seat.
Clean your desk before and after you eat. Using antibacterial wipes that kill germs is a great practice. In a pinch, vinegar and water work great and are all-natural. Be sure that whatever you use to clean the desk won't ruin the finish.
An infographic from U.K.-based MASTER Cleaners Ltd highlights the dirty secrets your seemingly clean office is hiding.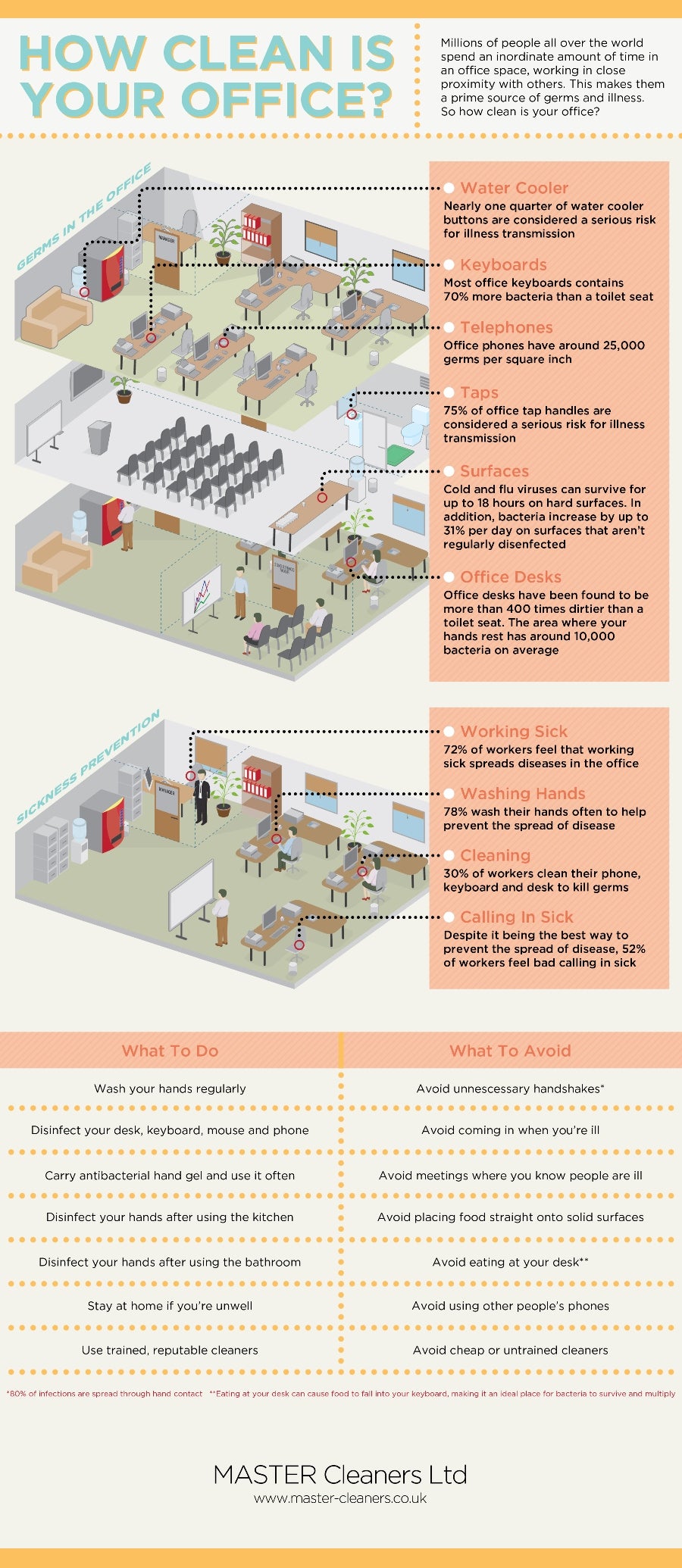 #5 Tidy and clean bathrooms, kitchens and collect any food/compost garbage daily.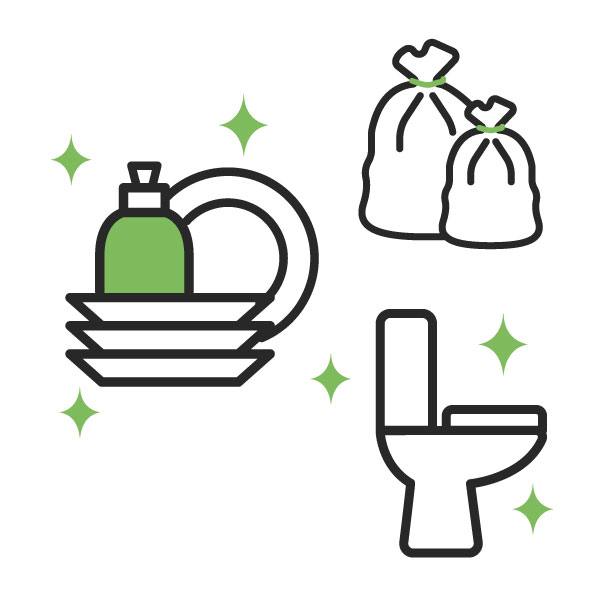 When it comes to company hygiene and keeping your workforce healthy and happy, have a daily tidy routine in between the deep cleans of bathrooms and kitchens.  Make sure the kitchen sink is cleared of any dirty dishes and cleaned with a good disinfectant, as should be your toilets and sinks. Food waste can do a lot of harm if left to the elements, in the form of moulds, smells and can attract rodents and insects.  Garbages should be emptied or securely stored if you have to wait for "Garbage Day."  Coming to work each day to a clean kitchen bathroom and garbage all empty will do wonders for your community well-being, let alone keep you on top of any issues due to daily gems, viruses and food waste issues.
#6 Use a lint-free/microfibre cloth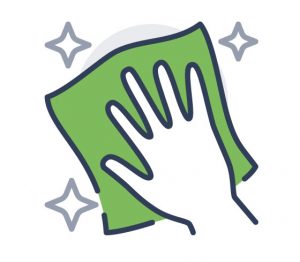 Use a lint-free cloth to wipe down items. If necessary, slightly dampen the cloth in plain water. Avoid excess wiping and placing pressure on screens.
Unlike standard cotton towels, microfiber towels and cloths can pick up microscopic materials, like bacteria and other germs, without the use of chemicals.
More on these types of cloths: https://www.realsimple.com/home-organizing/cleaning/best-microfiber-towels
#7 Use Use 70% isopropyl alcohol wipe or spray.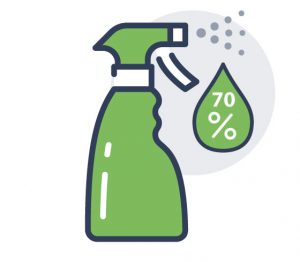 Sure, it seems counterintuitive, but in some cases, including in terms of preventing the spread of COVID-19, 99 percent isopropanol is too powerful of an alcohol solution. Simply put, it breaks down the outside of the cell before it can penetrate the germ in question. On the other hand, 70 percent alcohol is the perfect concoction of alcohol and water to cross a cell membrane, thereby attacking the entire cell and killing the bacteria.
However, this rule of thumb is dependent on the virus in question. Viruses with an envelope structure, such as the common cold and coronavirus, can be broken down by alcohol solutions of 60 percent or higher. But there are other viral structures, like the norovirus, which cannot be killed with the use of any concentration of alcohol. That's where handwashing reigns supreme as the most effective method for removing every form of virus and bacteria.
#8 Make sure everyone has wipes and hand sanitizer at their desk.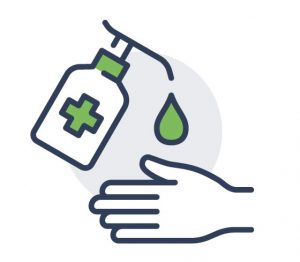 If using disinfecting wipes (such as Clorox or Lysol wipes) remember that to properly disinfect, you should clean only one item at a time, using enough wipes to ensure the surface stays wet for 4 minutes.
Desks, phones, computer keyboards and computer mice are key germ transfer points because people touch them so often. Considering that employees spend the majority of their day at their desks where they also eat, drink and even cough and sneeze, desks become "a minefield of viruses" which can live on a surface for up to three days. Placing individual hand sanitizers at desks keeps hand hygiene within reach.
#9 Never spray cleaners directly on an electronic items
Electronics are magnets for dust, dirt and grimy fingerprints and they can be difficult to clean. … Check the manufacturer's manual before you clean your electronics. Don't spray cleaner or water directly onto electronics. Disconnect electronics from power sources or remove the batteries before cleaning them.  Use this handy guide from The MAIDS  to properly clean your gagits.